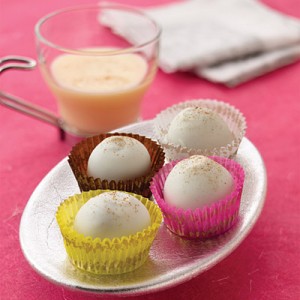 1/3 cup prepared eggnog
1/4 cup LAND O LAKES® Butter
1/2 teaspoon rum flavoring
1/4 teaspoon ground nutmeg
2 cups milk chocolate chips
Powdered sugar
12 ounces almond bark
Ground nutmeg, if desired
Directions:
Line large baking sheet with waxed paper; set aside.
Combine eggnog, butter, rum flavoring and 1/4 teaspoon nutmeg in 2-quart saucepan. Cook over medium-low heat until butter is melted (4 to 5 minutes). Add chocolate chips; continue cooking, stirring constantly, until chips are melted and mixture is smooth (2 to 3 minutes). Cover; refrigerate until firm (at least 2 hours).
Dust hands with powdered sugar. Working quickly, shape mixture into 1-inch balls. (Truffle mixture will be soft. Repeat dusting hands with powdered sugar to make shaping easier, if necessary.) Place balls onto prepared baking sheet; refrigerate until firm (at least 1 hour).
Meanwhile melt candy coating in deep 1-quart saucepan over low heat; stir until smooth (8 to 10 minutes). Remove from heat; cool 10 minutes.
Place 1 truffle at a time into candy coating. Use small spoon to coat truffle; immediately remove and place onto waxed paper. (Work quickly so truffles do not melt.) Sprinkle with nutmeg, if desired. Repeat with remaining truffles. Let cool 30 minutes. Place truffles in paper or foil candy cups.
Store refrigerated in container with tight-fitting lid up to 2 weeks
Recipe Tips:
When placing dipped truffle onto waxed paper, swirl the top to create a decorative design on truffle.
Spiral candy forks are available at cake and candy decorating stores and are made for dipping candies.
Stir together 1/2 cup powdered sugar and 1 teaspoon ground nutmeg in small bowl. Roll truffles in powdered sugar mixture rather than dipping in candy coating.
Do not substitute low fat eggnog for regular eggnog in this recipe. Truffles are meant to be rich and creamy.