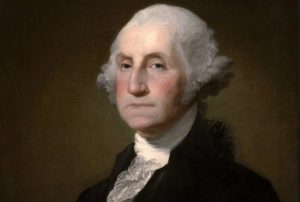 Yes, that George Washington! Apparently the first president of the United States of America celebrated Christmas with his very own eggnog recipe, and let me tell you – it is very boozy! According to the Old Farmer's Almanac, it was one of his favorite concoctions to serve at Mount Vernon during the holidays.
George's now famous recipe continues to circulate widely today, even though he seems to have forgotten to include the number of eggs needed, but hey, we can improvise! And here it is, in all it's boozy glory, in George's exact words:
One quart cream, one quart milk, one dozen tablespoons sugar, one pint brandy, ½ pint rye whiskey, ½ pint Jamaica rum, ¼ pint sherry—mix liquor first, then separate yolks and whites of eggs, add sugar to beaten yolks, mix well. Add milk and cream, slowly beating. Beat whites of eggs until stiff and fold slowly into mixture. Let set in cool place for several days. Taste frequently.
Taste Frequently! Yeah, he was all about that 'nog! I like his style, but seriously, this eggnog recipe seems to be a drink to be reckoned with!
Another interesting connection to eggnog of Christmas past is the fact that Mount Vernon still sells rye whiskey that is distilled on the estate using Washington's own recipe.